Briony Morrow-Cribbs
Although I no longer live on Whidbey Island, I live a remarkably island-like life in the green hills of Putney, Vermont. Year-round I work on my own art and illustration work. From September to June I teach at The Putney School, The River Gallery School and local community colleges. In the summer months I work as both a makeshift farmer at a local, family-run farm and as a gardener in a handful of Southern Vermont's beautiful gardens.
This blog entry is split into the four main areas of my working life: Art, Illustration, Teaching and Gardening. It feels important to note that while in blog-form these "job" descriptions are easy to write about as separate, well-defined areas of my life, they often bleed into each other, mixing and bumping and sharing each other's boundaries.
Art -
I am excited to be showing a handful of hand-tinted etchings and sculptures at this year's Putney School Faculty Show in the Currier Gallery. I'll be exhibiting a few of the usual monstrous/beautiful animal prints and some new print-and-bone sculptures. Here's a sneak preview of a few pieces that will be included in this year's show.
Illustration -
This last year I've had the opportunity to dive into a few different projects that have brought me back into the world of illustration. In the spring of 2013 I had a chance meeting with a group of woodworkers. When they heard that I both was the daughter of a woodworker and created copperplate etchings they asked me to join them in creating "The Anarchist's Design Book". The book, published by Lost Art Press in March of 2016, is an exploration of 18th century vernacular furniture. As explained on the Lost Art Press website, the "book explores 11 of these forms - a bed, dining tables, chairs, chests, desks, shelving - and offers a deep exploration into the two contraction techniques used to make these pieces that have been forgotten, neglected or rejected."
On my end of things, I got the chance to work completely different project than I was accustomed to and learn several new techniques. Not only was I illustrating man-made objects, but I also had the chance to lean the process of PurEtch, a nontoxic and biodegradable processes of etching copper plates with a photosensitive film resist. The project turned out to be a success and I had a great time working with a group of such hard-working individuals. (Watch the movie below to see how I used the PurEtch process.)
Eight years ago, in 2008, I began working with Algonquin Books, a division of Workman publishing, and Amy Stewart on a book that would eventually hit the New York Times bestseller list and be followed by a second New York Times Best Seller. That book - Wicked Plants - is now in several different languages and sold across the world. That book was also my introduction to commercial publishing.
In January of this year, Algonquin asked me if I would recreate the original etched illustrations from Wicked Plants as pen & ink drawings to be used in a coloring book. I agreed and spent over a month drawing one or two illustrations per day. The book was released in early August of this year. Wicked Plants Coloring Books can be ordered through Amazon or through your local book store.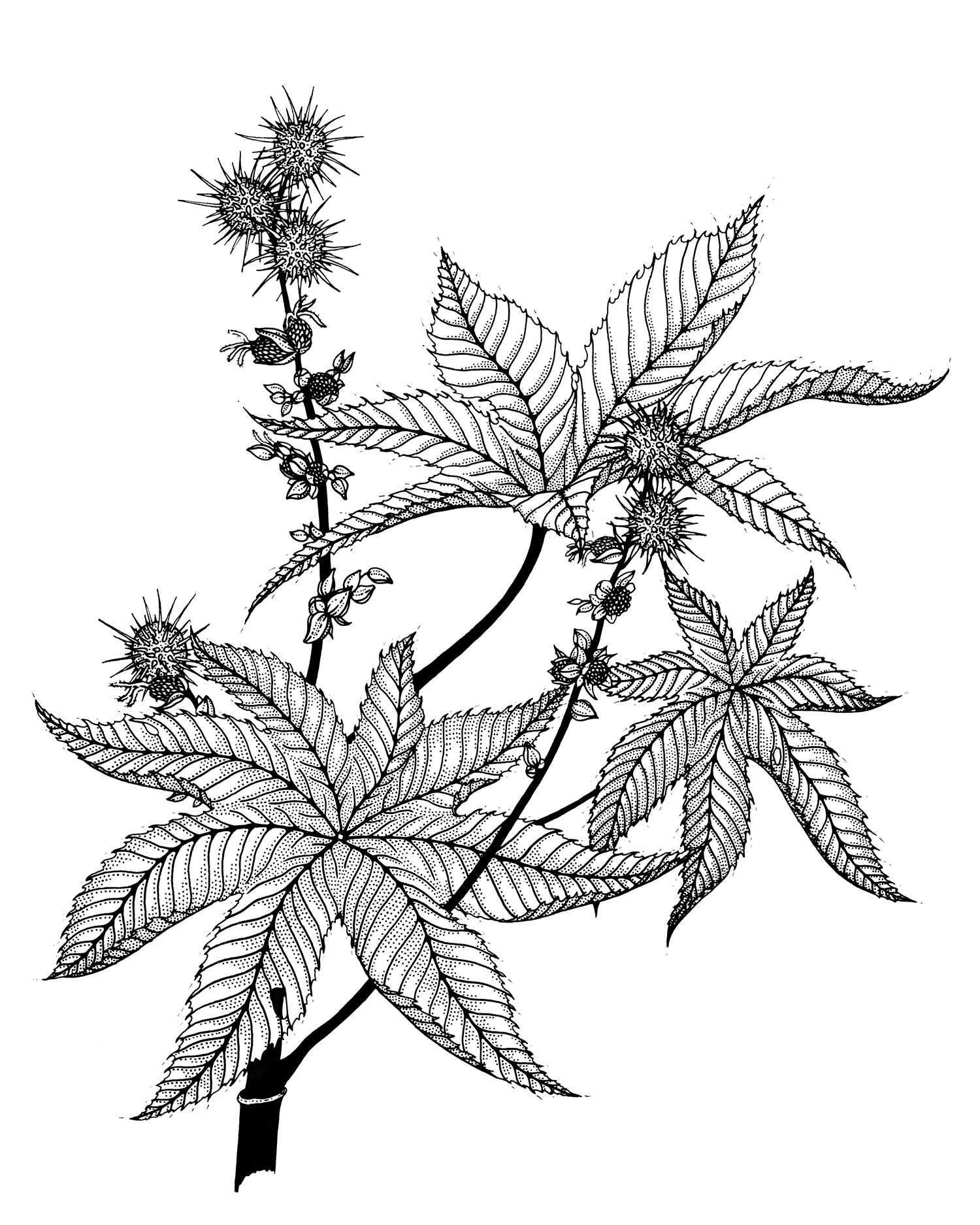 Above Images: 'Wicked Plants' Cover, "Henbane" from 'Wicked Plants', 'Wicked Bugs' Cover, "Locust" from 'Wicked Bugs', 'Wicked Plants Coloring Book', and "Castor Bean" from 'Wicked Plants Coloring Book."
Teaching -
I never thought I would be a teacher…let alone a high school teacher. And yet, here I am and I love it. I have the privilege of teaching printmaking and book arts at the Putney School , "An independent, coeducational boarding and day high school, with a strong program in the arts, music, [and] land use…" The school is full of bright, colorful students who want to make a difference in the world. I've learned a lot from the experience and have found that teenagers are not nearly as terrifying as I once thought they were. In addition to the Putney School, I teach book arts classes at the River Gallery School, a small art school that provides classes and workshops to students of all ages, the Community College of Vermont and have filled in as adjunct faculty at Smith College.
Farming and Gardening -
Another unexpected joy that has come into my life is gardening. The Vermont winter months are good for studio time and teaching but in the summer, when the the landscape explodes into beautiful scenes and exquisite plants, it's hard to stay inside. The last two years in Vermont I have spent my summers working at the Bunker Farm, a family run farm which produces naturally raised meats, annuals, perennials, and maple syrup. The farm is a second home to me and along with helping to run the farm stand, I transplanting annuals and perennials, can maple syrup and help process meat.
Gardening helps fill out my time and has helped make me a more durable, tough "Vermonter". (Out here you have to live in a place several generations become "of" the place). My gardening adventures take me to some beautiful places and give me a chance to be around some incredible botanical specimens.
To finish off, here are a few images from the gardens I worked in this summer: